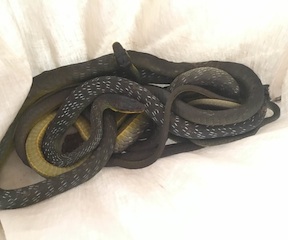 Monthly Update
August Brisbane Snake Catcher Update
With temperatures trending upwards resulting in a particularly warm and humid August our Brisbane snake catchers have been kept very busy.
A notable capture from last month resulted in 6 tree snakes being removed from a single felled hollow tree. This made for some great pics!
The most common snake Brisbane residents have been encountering in August continues to be the carpet python although the end of the month saw us turning up a fair number of common tree snakes also. Our snake catchers are already looking forward to the increasing temperatures resulting in some of Brisbane's less common snakes starting to show their faces!
Moving into September we are likely to continue to see a rise in snake sightings in all suburbs. On top of this we are continuing to get snakes sheltering in roof spaces and we expect this to continue as the Python breeding season kicks into gear.
Have a great September everybody!